Our chef David Real invites you to taste his authentic and inventive cuisine.

Discover the wine menu.
Please note that the wine list is given for information, it frequently changes over the year
A la carte
Chef David Real is proud to present his new menu.
Delight of the moment...
Roasted scampi, cooked apple and celery dice seasoned with granny smith apple juice and ginger vinaigrette - 34
To start...
Duck foie gras with spring vegetables and green pea hummus - 23
Marinated albacore white tuna with bergamot, ginger condiment and seasonal vegetables - 21
Green asparagus with morel mushrooms served with an organic fried egg - 25
Crumbled edible crab, avocado and grapefruit slices and whipped cream with coconut and curry - 18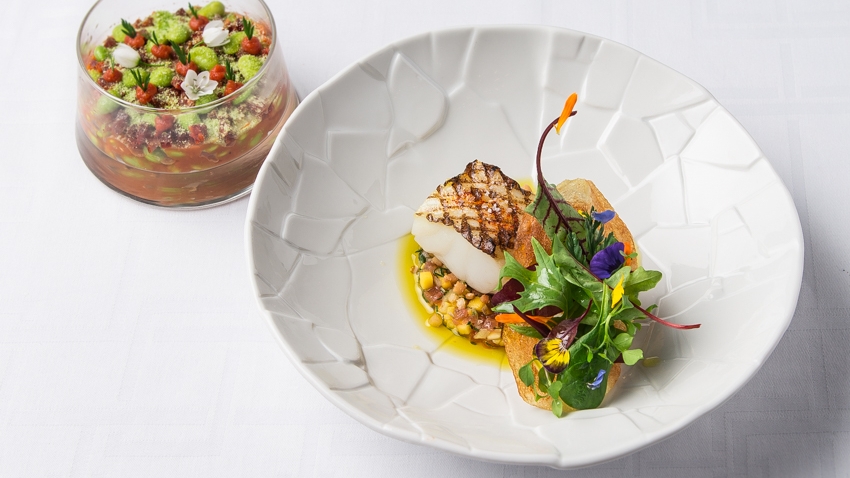 The sea...
Grilled cod seasoned with tomatoes served with broad beans with Bellota chorizo and black ginger - 26
Roasted hake with butter and a zest of lime, sautéed green and white asparagus and rocket salad - 29
Baked John Dory cooked in olive oil with tender potatoes and cherry tomato - 39
Rock fish soup with sautéed squids, aïoli croutons and tender monalisa potatoes - 35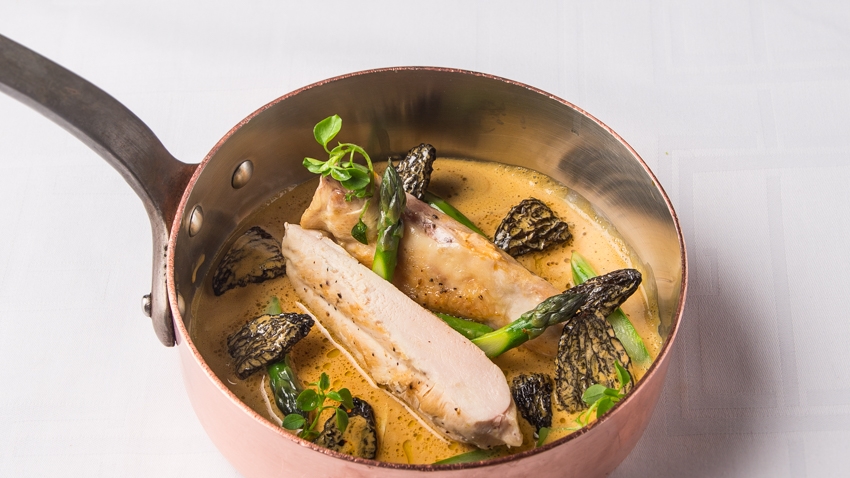 The earth...
Pork cheek with black pudding and pork sausage with swiss chard purée - 29
Organic rump steak served with shallot jam, red wine reduction and stuffed vegetables - 32
Roasted lamb fillet with artichoke, carrot and cherry tomato - 34
Free range chicken breast cooked with amber-yellow wine, asparagus and morel stew - 36
The essentials...
The club sandwich of the Westin Paris-Vendôme, « parmesan » french fries (minced parsley, truffle oil), salad sprouts - 25
The beef tartare, lettuce, sherry cream - 25
The seasonal cheeseburger - 29
The seasonal cheese...
€ 14
The desserts...
French strawberries, panna cotta infused with basil - 14
Pineapple and mango blancmanger with Madagascar vanilla - 14
75% Tanzania dark chocolate tart with almond shortbread - 14
Ice creams and sorbets from the "ardèche" region with vanilla madeleine (2 scoops) - 14
Sorbets: organic strawberry, organic rhubarb, passion fruit, dark chocolate, low-fat plain yoghurt Organic ice-creams : salted butter caramel, coffee, vanilla, almond milk, rum and grape
Dietary restrictions and others
We welcome enquiries from customers who wish to know whether any dishes contain particular ingredients. Please inform your order-taker of any allergy or special dietary requirements that we should be made aware of when preparing your order. All our meat is from the European Community.
Net prices, all taxes included. Cheques are not accepted following article l112-8 of the monetary and financial code.
Kids Menu
At The Westin Paris - Vendôme, we believe that eating well is not just for adults!
Breakfast
Breakfast cereal served with seasonal fruit and milk - 7
Blueberry and banana pancakes Lollipops - 8
Baby spinach and cheese omelette, served with fruit salad - 8
Lunch or Dinner
Grilled chicken with whole wheat pasta, served with tomato sauce, broccoli and parmesan cheese - 15
Asian-style salmon with soba noodles: baked salmon with fresh ginger, carrots, red peppers, onions and sesame seeds - 18
Tuna salad sandwich: served on whole wheat bread lettuce and tomato - 10
Chicken salad, mixed greens, chicken, egg, cheese, avocado and cherry tomatoes with low-fat dressing - 12
Thai chicken and apple curry with jasmine rice: chicken, apple, green peppers and peas in curry sauce served with jasmine rice - 12
Make your own salmon Niçoise salad: poached salmon with mixed greens, egg, potato, green beans, beets, cherry tomatoes and more - 12
Desserts
Garnish your own crepes, served with fruits and low-fat yoghurt - 8
Lemon cornmeal cookie with sorbet, served with fresh fruit and 3 scoops of sorbet - 8